대표자 인사말씀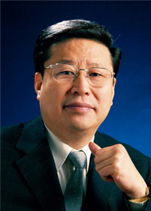 As time flies, Sanhua has acquired
a great achievement over decades.
Sanhua people dedicated to implement the operating strategy "Small components oriented to global market, and High-tech & Specialization", act as the Sanhua spirit of "Strive for perfection, pursue of excellence", and execute the attitude of "Quick response and immediate action", with the wisdom and great effort, Sanhua has built a magnificent "Sanhua Empire" and taken a favorable position in the competitive global market; with its magnificent and remarkable developing history, Sanhua has reestablished a new industry competition format.
Sanhua has experienced a great course from a Sino-Japanese joint venture to Zhejiang Sanhua Intelligent Controls Co., Ltd., and a public listed company today. Sanhua main sector, refrigeration and air conditioning components has reached a strong and professional stage, and is determined to become the leader in the global industry in future.
In such an important occasion, Sanhua will devote herself to the orientation of specialization, consolidate and develop the level of specialization; actively transform to the strategy of "Technology leadership", keep on developing a series of new products and new technology with the characteristics of energy/resourse saving, environmental protection, and make a contribution to people in the creation of better living environment; Sanhua will make a further step to expand the global sales work, establish strategic relationships with global first-class customers and internationally integrate the industrial resourses; furthermore, Sanhua will focus on the update of internal management level, cultivate an international leadership, management level and operating ability,
and promote the global refrigeration
and air conditioning components industry into "Sanhua Era".
Short life but endless pursuit, for the blueprint "Centurial Sanhua", Sanhua people worked together and shared weal and woe over last decades. The belief "Enterprise is a tree, talents are the roots, how the tree blooms depends on how deep the root is", and the future glorious Sanhua is deeply embedded into the mind and heart of people who are caring Sanhua, supporting Sanhua and endeavoring for Sanhua.