Pressure Sensor Series YCQC
Pressure sensor series ycqc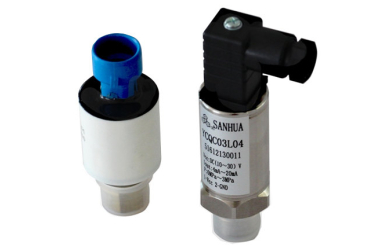 Pressure Sensor Series YCQC
ref. Pressure Sensor Series YCQC
Pressure sensors are widely used in Air Conditioning, Refrigeration and Heat Pump system. YCQC pressure sensor uses a DC 10-30V excitation input to provide a 4-20mA signal output proportional to the pressure of the medium. This device requires no end user amplification. Pressure sensors permit to control and guarantee the system working under safe and stability condition.
Features
Overall features: Applied high performance digital circuit which has good linear, small temperature shift and high level of accuracy over wide operating range
Small size and simple installation; models available with Hirschmann and Packard socket connections;
Stability: Applied superior pressure core, good stability under strict process control;
Diversification: various pressure range.
General Specification
Applicable for all common HCFC and HFC refrigerants such as: R22, R134a, R404A, R407C, R410A, R507, R407A/F, R290²⁾, R1234ze, R1234yf, R32, R448A/R449A, R452A,R450A/R513A
Installation position: preferably with vertical axis and sensor upwards
Supply Voltage : from 10V to 30V DC
Rated Output Signal: from 4 to 20 mA
Voltage dependency : < 0,05% FS/10 V
Current Limitation (linear output signal up to 1.5 x rated range) : 28 mA
Signal Span (V FS ) : 16 V
Insulation Resistance 2 : Min. 100 MΩ
Protection Class : IP65/IP66
모든 제품 데이터를 참조