RAC Awards 2012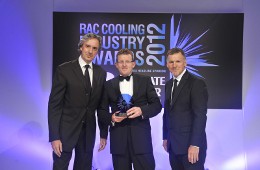 2012/11/05
Sanhua proudly sponsored the RAC award of Air Conditioning /Heat Pump of the year.
The winner of the price is the Integrated Low Carbon Heat Pump Solution from Oaksmere and Marks and Spencer. The sheer scale of energy savings offered by a well –thought out installation was aptly demonstrated by this category.
In the image the Sales & Business Development Director of Sanhua Nicolas Gignoux (left) giving the prize to the representantive of Marks and Spencer & Oaksmere.
Other finalists:
National Bank Data Centre Upgrade. By emb-papst Emerson Network Power
Project Harmonac. By Mc Whirter and Partners
Colt Technology Data Centres. By Cool-Therm